The 2012 NFL Draft is just over a month away. Today starts part 1 of the Charger Madness Mock Draft 1.0. We begin with picks 1-10.
1) Indianapolis Colts- Andrew Luck (QB, Stanford)
The Colts have been a lock to pick Stanford QB Andrew Luck for months. While the team will give due diligence to Robert Griffin III and scout him, but Luck is the man here. Indy will begin a new era this season, and what better way to replace Manning than with the best quarterback prospect since, well, Manning. Luck can make all the throws and looked great throughout his college career and at his pro day. It almost seems unfair that a team can get to draft franchise quarterbacks back to back like this.
Other Possibilities: Robert Griffin III
2) Washington Redskins (from St. Louis)- Robert Griffin III (QB, Baylor)
The Redskins sold the farm to move up to the 2nd spot in order to land their quarterback of the future. Griffin has elite athleticism and can make all the throws. The differences in Luck and Griffin are mainly just style of play. Both are talented. Griffin seems to be a great fit for the Redskins and the West Coast offense. He possesses great character and can be a leader in the locker room for years to come. Either way, the Redskins will get a great quarterback.
Other possibilities: Andrew Luck
3) Minnesota Vikings- Matt Kalil (T, USC)
Minnesota needs help to ensure that young quarterback Ponder can succeed. While receiver is a need for the team, Ponder must stay upright. Minnesota will address the offensive line and give ponder more time. If AP can recover, the team does have some good weapons in Harvin, Rudolph, and Peterson. Kalil comes from proven NFL stock and should be a fixture on this line for years to come. Expect Charlie Johnson to be on the outside looking in. These first three picks are all but locked in.
Other possibilities: Justin Blackmon, Morris Claiborne
4) Cleveland Browns- Morris Claiborne (CB, LSU)
Cleveland is in a tough spot, failing to sign either Peyton Manning or Matt Flynn. With the top 2 quarterbacks off the board, there isn't really any other quarterback left who seems like a for sure 1st round talent. Many are saying that this pick will be Ryan Tannehill. I don't think that the Browns will reach this high for somebody who isn't really worth the pick. For all the trash talking that Colt McCoy takes, he has done ok, even without a great cast around him. With this in mind, I think that the Browns take LSU corner Morris Claiborne. Having him opposite Hayden would be a great tandem for this team, especially considering the talent that division rivals Pittsburgh and Baltimore have. Factor in the Bengals with A.J. Green, and corner becomes all the more critical.
Other possibilities: Ryan Tannehill, Justin Blackmon, Trent Richardson
5) Tampa Bay Buccaneers- Trent Richardson (HB, Alabama)
Tampa has done well to solidify the defensive line the last few years, adding quality young players at both tackle and end. The secondary could use some work, but when it comes down to it, the best player left on the board is Alabama running back Trent Richardson. This kid is a complete back. He can fit in on any down or situation, something that Blount can't do for the team. This combination would give them a great rotation and could really help against a Saints defense that is going to most likely be a little soft this year. Richardson would give this team a true all purpose back who has great hands coming out of the backfield. He has proven himself against some of the best defenses in the country.
Other possibilities: Morris Claiborne
6) St. Louis Rams (from Washington)- Justin Blackmon (WR, Oklahoma State)
St. Louis was sitting pretty in the draft due to having already secured their franchise quarterback in Sam Bradford. They were able to get a huge ransom from the Redskins for the rights to take RG3. The Rams have several holes to fill, but the most important thing they need to do is to get somebody, anybody, around Bradford. He has very little to work with in terms of receivers. Blackmon, while only 6' 1'' plays with power and like a much bigger receiver. He may not be the fastest, but make no mistake, he is a real number 1 in my book. He would instantly give the Rams a much needed boost and could take some pressure off the running game after so many years.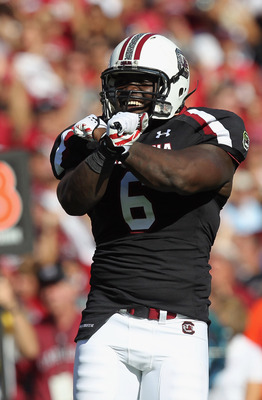 Other possibilities: Riley Reiff, Johnathan Martin
7) Jacksonville Jaguars- Melvin Ingram (DE/OLB, South Carolina)
Jacksonville has a good defense and an anemic offense. The problem here is that they need playmakers for Gabbert, but any offensive player here would be a reach. The pass rush is the area that the team could most likely address early in the draft. Ingram can play all over the place and has a relentless motor. He has good character, something that Gene Smith has been very focused on when drafting. Both the Texans and the Colts are facing big holes on the offensive line, so an improved pass rush could help the team all the more.
Other possibilities: Morris Claiborne, Riley Reiff, Johnathan Martin
8) Miami Dolphins- Ryan Tannehill (QB, Texas A&M)
Talk about getting spurned. This team couldn't get Manning, Flynn, or even Alex Smith to sign with them. They are the poster child of how to run an organization into the ground. If you are signing an out of work David Garrard for more money than your incumbent starter, you have some serious issues. Tannehill is not an actual round one quarterback in my mind, being a big reach here, but the Dolphins don't really seem to have much of a choice here. The only saving grace out of this is the fact that he is mobile. He may need to be running for his life in Miami. The Dolphins will get another quarterback to try and fill the void left years ago by Marino's retirement.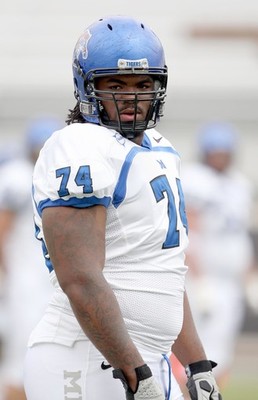 Other possibilities: Riley Reiff, Melvin Ingram
9) Carolina Panthers- Dontari Poe (DT, Memphis)
Poe is a mountain of a man who has scouts drooling, especially with his workout at the combine. Carolina needs help in the middle, and Poe can fill that void. The biggest knock of Poe is that even against lower levels of competition, he disappeared at times. He may not put up big numbers, but he will take up running lanes and occupy multiple lineman. He seems to fit the scheme well.
Other possibilities: Michael Brockers, Riley Reiff
10) Buffalo Bills- Riley Reiff (OT, Iowa)
Buffalo is paying big bucks to Harvard man Ryan Fitzpatrick, and he needs weapons. Still, he needs to stay upright. While he was sacked only 22 times, a big part of that was him getting rid of the ball so quickly. Fred Jackson and C.J. Spiller could also benefit from having a guy like Reiff blocking for them. He is physical and should be a good pick. He can play both left or right tackle. With Demetrius Bell still a free agent, Reiff could become more and more of a reality.
Other possibilities: Michael Floyd, Luke Kuechly