Today we continue our first mock draft with picks 11-20.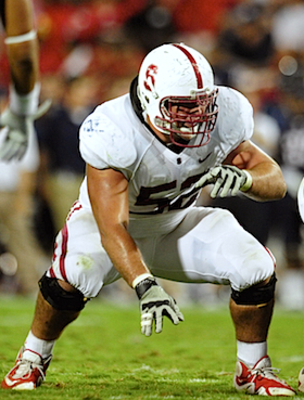 11) Kansas City Chiefs- David DeCastro (G, Standford)
Kansas City brought in Eric Winston to fill a void at tackle, but they could really use some help with the interior of their offensive line. DeCastro is an elite guard, drawing comparisons to Steve Hutchinson. The Chiefs are still a very heavy running team, and DeCastro can be a great player for years to come. Kansas City has a good collection of weapons at the skill positions for Matt Cassel to work with, so keeping him upright and clearing holes for Jamaal Charles.
12) Seattle Seahawks- Luke Kuechly (LB, Boston College)
Seattle has a big need at linebacker. They have struggled for the last few years at the position. Luke Kuechly can solve some of those issues. Kuechly is one of the best linebackers to come out in the last several years. The kid can line up at any spot, but fits the middle the best. Many thought that he would run a slow 40 time and hurt his draft stock. He did the opposite and made a great case for being a top 15 selection. He is a smart linebacker with a great motor and will be a great defender for the Seahawks.
13) Arizona Cardinals- Johnathan Martin (T, Stanford)
Arizona has one of the worst lines in football at the moment. While they did resign Levi Brown, there are holes all over the place on this line. Martin can play on both the right or left side, giving the Cardinals some flexibility. The team may not be sold on Brown anyways. Martin would help keep whoever wins the quarterback battle in Arizona between last years big trade Kevin Kolb or Fordham's little guy that could John Skelton upright.
14) Dallas Cowboys- Quinton Coples (DE/DT, North Carolina)
Coples is a player who is very talented but has some issues with motivation and effort. Dallas had a need at both tackle and defensive end last season, deciding to address the offensive line with Smith. Coples is a prime candidate to play opposite of Ware. Coples may slip, but his talent will keep him from falling to far. Jerry Jones always feels the pain of letting some character issues lower the value of a draft pick since he passed on Randy Moss. Coples won't get by Dallas at 14.
15) Philedelphia Eagles- Cortney Upshaw (DE/LB, Alabama)
Philly did sign Demeco Ryansto fill the middle, but they still have a need at linebacker. Upshaw has the ability to transition between outside linebacker and defensive end for the Eagles. He has great size and can get after the passser very well. Upshaw has good hip swivel and can be a force on both the edge and on the line. A player who can play in multiple fronts is always a good thing to have.
16) New York Jets- Michael Floyd (WR, Notre Dame)
The Jets do need help with their pass rush, but getting a receiver like Floyd is too good of a chance to pass up. With the departure of Plaxico and a loudmouth in Holmes, this unit needs some serious help. Floyd did have some character issues that plagued him during his first three years at Notre Dame, but he cleaned his act up for his senior season. He has great size and is surprisingly quick for a receiver his size. He ran an impressive 40 time and should be a great red zone threat.
17) Cincinnati Bengals- Dre Kirkpatrick (CB, Alabama)
Cincinnati made out well last year with the selections of Andy Dalton and A.J. Green. These two picks reignited an offense. This year, the Bengals will be pursing something they havent done in a long time: posting backing to back winning seasons. This team surprised a lot of people. Their biggest weakness is in the secondary. With Claiborne off the board long ago, Kirkpatrick and Jenkins are the best corners on the board. Kirkpatrick does have some character issues, but his talent is to good to pass up. He has competed against some elite receivers in college and should be a great pick if he can stay out of trouble. The Bengals could stand a chance to make a run at an AFC North crown. It won't be easy, but this team showed that it can play.
18) San Diego Chargers- Cordy Glenn (T/G, Georgia)
I know that people really want San Diego to get a pass rusher. That is a need that the team needs to address. Nick Perry would be great in this spot. The thing is that a lineman like Glenn doesn't always come along, especially at 18th overall. There are enough 2nd and 3rd round talents (Shea McClellin, Vinny Curry) that can contribute to the pass rush. The offensive line was a literal sieve last year. A.J. Smith has said that the offensive line is the highest priority for the team. Glenn can play multiple positions and can either immediately start at LG or give Clary some serious competition at RT.
19) Chicago Bears- Kendall Wright (WR, Baylor)
Chicago added a big target in Brandon Marshall, but I don't think that the team is done adding talent. While Hester has done a better job as a reeiver than I ever thought he would be, but the fact is that the Bears still use a good target for Cutler. Wright produced big numbers while at Baylor. While his combine time was horrendous, the film on him shows his true potential. He can come in and immediately play in the slot. It looks like either Hester or Johnny Knox will most likely be on their way out. Hester can at least make the transition back to DB, so who knows how the depth chart will end up.
20) Tennessee Titans- Michael Brockers (DT, LSU)
Tennessee could use some help in the middle. Ever since Haynesworth left, there has been a void here. Brockers can move well for a big guy and has good strength and great quickness and agility for his size. While he is a young prospect (Redshirt Sophomore). He only recorded 2 sacks last year, but that could increase as he develops. Brockers in projected both as a 3 technique tackle and a 5 technique end. His versatility on the line would be very helpful. He has a high motor and always seems to play best in big game situations. When you have to face Foster, Tate, and Jones-Drew twice a year, some help inside could never hurt.