San Diego lost Mike Tolbert to the Carolina Panthers, leaving them to return closer to home for a reduced offer. San Diego has been rumored to be looking at 4 free agents to replace him, but it is very possible that the Chargers may target a back in the draft as a replacement for Tolbert. It is possible that Utah State running back Robert Turbin may be considered by the Chargers.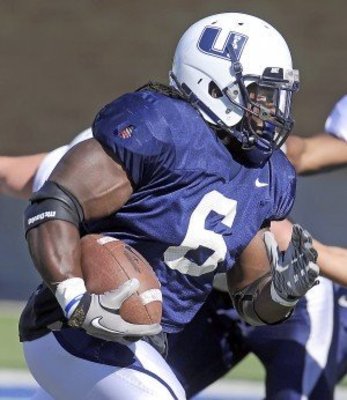 Position: RB
Height: 5' 10''
Weight: 222 pounds
Pros: Turbin has been turning heads at Utah State for several years. He is not a one year wonder. Turbin possesses great upper body strength, which he uses to excel at running between the tackles as well as picking up blitzes. He has strong leg drive and surprising agility and acceleration when heading upfield for a back his size. Turbin can also catch the ball out of the backfield, adding another skill to what he can bring to the team. His ability to deliver a strong impact may very well help him contribute on special teams as well.
Cons: While Turbin does possess good speed for a back his size, he still doesn't have great top end speed. He also doesn't possess lateral agility, but that is to be expected with a bigger back. it very well is something that he could improve over time. What is most concerning is Turbin's injury report. He missed all of 2010 with an ACL injury and had a foot injury in 2007. These injuries are much easier to recover from today, but it will still be enough for a team to consult with their doctors extensively.
Turbin brings several skill sets to the table, filling the role of goal-line back, receiver out of the backfield, at minimum a good spell back, and possibly contribute on special teams. Turbin is a back who may be drafted later in the draft due to the limited value placed on running backs in the now pass happy NFL. Adding Turbin for a minimal investment could pay huge dividends for the team. It will be interesting to see how San Diego approaches the draft and the remaining free agency class.