Just as usual, the combine this year saw some players elevate their status while others fell. Here is a list of some of the top performers of this year's combine.
Winners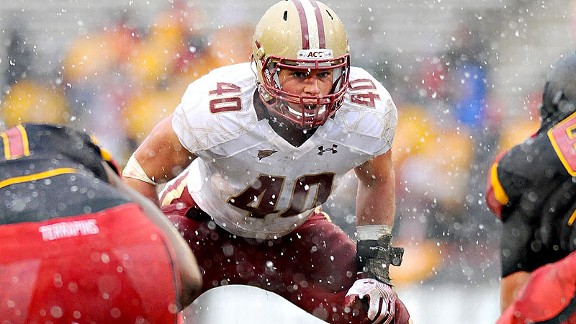 1) Luke Kuechly, ILB, Boston College: Kuechly is a tackling machine who saw his already high stocks climb even high with good workouts at the combine. The character of this guy is great and his leadership unquestioned. Could we see a middle linebacker come off the board in the top 15? Kuechly certainly provided enough at the combine for this to be a possibility.
2) Kirk Cousins, QB, Michigan State: Coming into the combine, Cousins was on the outside looking in as a quarterback with a very low draft potential. Cousins, who performed well in the Senior Bowl, was often criticized while at Michigan State for his decision-making ability. Cousins threw the ball very well during the combine and may have moved his way up into the second or third round.
3) Cordy Glenn, G, Georgia: Some people were wondering if Glenn had the athletic ability to find success in the NFL. Glenn put that to rest by doind 31 bench reps and running an impressive sub-five second 40 time. Glenn cemented himself as a great prospect here.
4) Josh Robinson, CB, Central Florida: Johnson turned in the fastest 40 time of the combine at an official 4.33 and unofficial 4.29. Robinson was viewed as a fringe talent until now. His blazing time will have teams giving him some serious consideration. Robinson may not be great, but there will be more interest in him now. Could a team take a risk on him somewhere around the 5th round? I am looking at you Oakland.
5) Stephen Hill, WR, Georgia Tech: Hill didn't play in anything even resembling a balanced offense in college, working under Paul Johnson's option attack at Georgia Tech. With the limits that this system places on wideouts, the combine is perhaps more important to players like Hill than to any others. Hill ran a blazing 4.36 40 and looked good in receiving drills. Hill is an unselfish blocker and may hear his name called early in day 2 if he backs this up with a solid pro day.