Today rounds out the first round of the Charger Madness 2012 NFL Mock Draft 1.0. Here are picks 21-32.
21) Cincinnati Bengals- Stephen Hill (WR, Georgia Tech)
The Bengals surprised a lot of people this year, making the playoffs before falling to another surprising team in the Texans. The defense needs help, especially at corner, but they already addressed that at 17th with Dre Kirkpatrick. The team does have some good weapons for Andy Dalton in A.J. Green and company, but I think they could add one more receiver to help Dalton. Hill has been limited in his development playing in a triple-option system, but he has great speed and is a willing blocker. With time, his routes should improve. He should be a nice addition to the team.
22) Cleveland Browns- Doug Martin (RB, Boise State)
I had the Browns passing on Trent Richardson at 4th to take Claiborne. The next several picks for this team will be offense. This unit is dreadful. To me, Martin seems like a back who can do just about everything. He is probably a bit underrated and should be a nice fit for the Browns. He has great acceleration and strength, can catch out of the backfield, bowl over defenders, and run both inside and out. The only knocks I have head are that he doesn't have elite top end speed and he sometimes doesn't always carry the ball away from defender. he will need to improve his pass blocking, but what rookie doesn't? Martin better be ready to take a beating.
23) Detroit Lions- Janoris Jenkins (CB, North Alabama)
Detroit has put together a great defensive front and has a decent group of linebackers. The weakest link in this unit is the secondary. Delmas is a great player, but they really need help against the pass. Just look at how they were shredded by Matt Flynn and Aaron Rodgers. Jenkins isn't the typical small school guy. He played for the University of Florida and is an all around great back, possessing great agility and speed. He has a knack for making big plays and was lights out at the Senior Bowl.
24) Pittsburgh Steelers- Mike Adams (T, Ohio State)
Pittsburgh has had issues on the line for the last couple of seasons, and could still use some depth at the position. Adams was disappointing at the combine, but I think he is still the best tackle on the board at this point. They could use some help at DT or CB, but they have to keep Big Ben upright.
25) Denver Broncos- Fletcher Cox (DT, Mississippi State)
The Broncos have Manning now, so defense can become the priority in the first round. Cox split time at both DE/DT. Cox has good lateral agility and can collapse the pocket well, although he needs to develop more moves. He relies heavily on the bull rush, lacking diversity. He does a good job dragging the ball carrier down due to his upper body strength. He has room to add a few pounds to his frame and should be a great pick for the Broncos.
26) Houston Texans- Nick Perry (DE/OLB, USC)
I would love to see him in powder blue, but he would be a nightmare in the AFC South. I still can't get over how impressive he looked in his workouts at the combine. He has said that he would rather play end, but at the end of the day, he will play, period. He should allow them some flexibly. The Texans are suddenly in a division where, barring Matt Hasselback starting, no team besides the Texans will have a quarterback with more than 1 year of starting experience. This defense just keeps getting scarier.
27) New England Patriots- Whitney Mercilus (DE/OLB, Illinios)
New England has needed to improve the pass rush for the last several seasons. Mercilus gives them a rusher off the edge who could be a standout for the team. While he may be a one year wonder, I can't see the Patriots passing on a talent like this, especially given the issues they have had trying to generate a pass rush the last few years. Packers fans are going to be unhappy if they can't trade up with both Perry and Mercilus coming of the board right before their pick.
28) Green Bay Packers- Stephon Gilmore (CB, South Carolina)
While they could use help with the pass rush, most of the players who fit the need in the first round are already off the board. With this in mind, I see the Packers getting proactive and selecting Stephon Gilmore. The team is going to have to replace Charles Woodson at some point. With the team unsure of Nick Collins future, this pick would allow them to move Woodson to safety or to give Gilmore time to learn from one of the best.
29) Baltimore Ravens- Peter Konz (C, Wisconsin)
Matt Birk has been great for this team, but a replacement is needed. Konz fits the physical, run first nature of this team, having cleared the way for one of the best rushing attacks in college football at Wisconsin. While the Ravens do need to address the CB position (depth to be able to handle free agency next year), Konz is to good of a pick to pass up.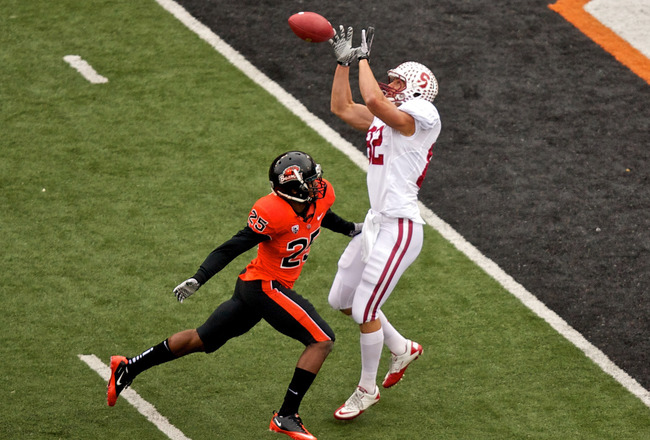 30) San Francisco 49ers- Coby Fleener (TE, Stanford)
While this team needs weapons, many people are thinking receiver. The thing is, Fleener is basically a huge receiver. He runs a 4.43 40 yard dash. With the success of the Patriots and their two headed tight end monstrosity of an offense, expect a few teams to try and incorporate that into their scheme. Just think of the damage that Fleener and Davis could do on the same offense.
31) New England Patriots- Mark Barron (S, Alabama)
Barron is a great NFL talent, the only reason he is down here is that the safety position is falling as a whole. He is a smart player and is a proven playmaker. I know that the team brought in Steve Gregory, but Barron would be able to challenge him from day one for the starting job. He is physical at the line and should be ok in coverage. New England will have some new toys on defense this year.
32) New York Giants- Zach Brown (OLB, North Carolina)
Brown is a player who is just starting to scratch the surface of his talent. There have been some who wonder about his attitude, but head man Tom Coughlin can take care of that. He is amazingly fast and has huge upside. The Giants took a leap on Jason Pierre-Paul and it paid off. Brown needs some polish, but he could be an immediate contributor on special teams and be a force at linebacker with the proper coaching. He seems to fit the team well and could line up as a smaller defensive end if gains a few more pounds. You can never have to many speed rushers.