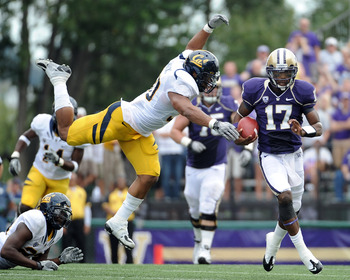 A versatile player is always a good thing for any team to have. With that in mind, here is the draft profile for California ILB Mychal Kendricks.
Position: ILB/OLB/SS
Weight: 240 lbs.
Height: 5' 11''
Pros: Kendricks is an athletic and versatile player who played both inside and outside linebacker in college. There is also talk of him being able to transition to SS in the NFL. Some wondered if he had the speed to play that position, but he put that to rest by running a 4.47 40 yard dash time. He has great awareness and generally does a good job staying at home. He is a high motor player who goes all out on every play. He is an effective tackler who hits hard despite his size and plays downhill. Kendricks possesses good footwork and has a great closing burst.
Cons: His biggest knock is his size. At only 5' 11'', many scouts are wondering if he can hold up at inside linebacker. He is somewhat stiff in the hips and can get engulfed by blockers and end up knocked back on his feet. He needs to make sure he wraps up better with tackles instead of always going for the big hit. He also has some concerns with injuries, injuring both his shoulder and thumb last season. Even with this, he still earned the PAC-12 Defensive Player of the Year. He doesn't have the best change of direction ability, which could really hurt him if a team wants to transition him to SS.
Kendricks is a player who, regardless of where he goes or what position he will play, will contribute to a team in a variety of ways. He is an intriguing prospect who should be on the Chargers radar. With his potential to play SS, he might be able to learn under Atari Bigby and compete with Stuckey for playing time. He should immediately contribute on special teams. He seems like the kind of player who will be nipping at the heels of those above him on the depth chart. Competition is always a good thing for a team, both internally and externally.