With the draft officially wrapped up, it is time to take a look at just how well the Chargers did. This will include both an overall ranking and a ranking for each pick.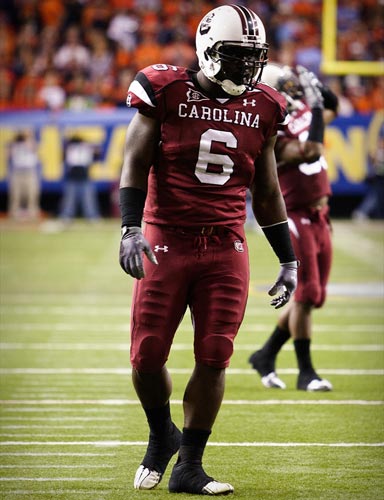 Round 1, Pick 18: Melvin Ingram, DE/OLB, South Carolina (B+)
I am really not sure about this pick. If he is as talented as everyone says he is, then great for the Chargers. My biggest concern is how he handles the transition to OLB. I know that he has played it some in the past, but he is used to playing with his hand in the dirt. I hope that his cover skills are decent, because I really don't want to see a first round pick used on a situational pass rusher. That being said, I do believe that he can contribute to the pass rush. I would like to see him get in and make a difference. We will just have to wait and see how he does. The only thing that is certain is that there is going to be some serious pressure on him to contribute from day one, especially considering the way he fell on draft day.
Round 2, Pick 49: Kendall Reyes, DE/DT, Connecticut (A)
Reyes flew under the radar a bit, but he has serious potential. Any time a team can grab a versatile lineman like Reyes, it is a good thing. He has the size to move in and play DT in a pinch or in nickel schemes, but projects as a defensive end. With Cesaire and Castillo both aging or coming off injury, Reyes should be a factor for the Chargers as a rotational player who eventually starts opposite Corey Liuget. He didn't record a high number of sacks in college, but that isn't that important in a 3-4 scheme. He has the ability to handle double teams but also possesses the agility to split the double teams.
Round 3, Pick 73: Brandon Taylor, SS, LSU (B)
This was an area that the Chargers needed to address and they did. Taylor needs to develop his coverage skills, but he does bring a physical presence to the defense and the position. He was the quarterback of LSU's defense. This wasn't a very deep class at safety, so we will see how this pick pans out. There isn't a huge amount of pressure for him to be effective from day one, especially with Atari Bigby already on the team. It will be interesting to see what the team plans to do with Stuckey now that they have Taylor and Bigby.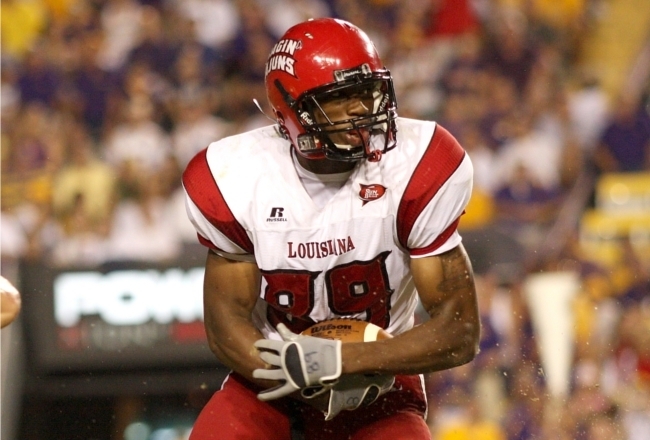 Round 4, Pick 110: Ladarius Green, TE, Louisiana Lafayette (A)
Can anyone remember the last time that Antonio Gates played a full season? I can't remember. Green is an explosive tight end who can stretch the field and split out as a wide receiver. He has great body control and isn't afraid of contact. He will get to learn from Antonio Gates, which should benefit him immensely. I know that the Chargers are already deep at the position, but Green should find his way onto the field this year.
Round 5, Pick 149: Johnnie Troutman, G, Penn State (C-)
It had to happen at some point. The Chargers had done a good job avoiding reaching for anybody through the draft, but Troutman seemed to break that. He was graded out as an undrafted player, yet we took him in the 5th round. Players like Washington's Senio Kelemete were still available and seem to me to be better prospects. Still, Troutman is a tough Big 10 lineman who should add depth for the Chargers. If he turns out to be a good pick, that is fine with me, I just think that the pick could have been on a better prospect. For reference, Kelemete went two picks after Troutman.
Round 7, Pick 226: David Molk, C, Michigan (A+)
Molk was a steal in the 7th round. He constantly produced at Michigan and should be a great addition for the Chargers. He has good power and size. I know that college awards don't translate to success in the NFL, but you don't win the Rimington Award without production. Molk is an intelligent and strong lineman who should eventually take over for Hardwick. What isn't to like about this guy. Molk helped Brady Hoke turn Michigan around and is a hard worker who will come in from day one and do whatever it takes to make himself and the team better.
Round 7, Pick, 250: Edwin Baker, RB, Michigan State (A-)
The Chargers went Big 10 for their last 3 picks of the draft. Baker is a great addition. He understands blocking schemes and does a great job picking up blitzes. He has good hands coming out of the backfield, but does have some fumbling issues as well as injury concerns with his shoulder. Still, this 7th round pick should find his way onto the field as a 3rd down back. He isn't a flashy runner, but he will get the yards and sacrifice his body on blocks. He should be a good backup to Ryan Mathews.
Taking all factors into consideration, the Chargers get a solid A for the draft. A.J. has done a great job with free agency and now the draft. This is a talented group of players that should make an impact right away for the Chargers. It is a good mix of immediate impact players and key depth players who have starting potential down the road.