With the first wave of free agency done with, the next focus for teams is the draft. Each year, there always seems to be a piece that a team needs, and the Chargers are no different. This year, the Chargers have needs at three areas that stand out.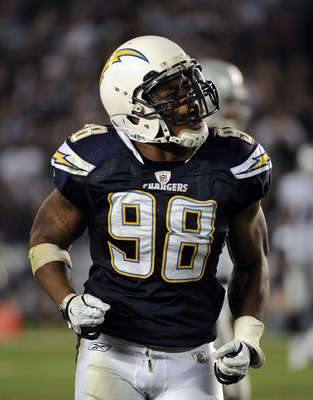 1) Pass Rush: This is what people see as the biggest need for the team, and that argument can certainly be made. The team as a whole only had one player, Antwan Barnes, record more than 4 sacks. Barnes was responsible for 11 of the teams 32 sacks, which was good enough for 23rd in the league. That number has got to improve. Since San Diego runs a 3-4 scheme, that pressure has to come from the linebackers. With prospects like Whitney Mercilus and Nick Perry available, San Diego may look long and hard at upgrading this position in the first round.
2) Offensive Line: With the resigning of Hardwick and Gaither, the offensive line situation improved greatly. Still, the team could still use help. The LG spot is still up for grabs. I know that A.J. Smith has talked about allowing Tyronne Green and Brandyn Dombrowski the chance to compete for the starting job, but I wouldn't rule out a rookie being drafted and thrown into the mix. As much as the team has endorsed Clary on the right side, the public perception is not the same. Bringing in a lineman who could play both guard and tackle would both provide key depth and a challenge for both positions.
3) Secondary: Chargers fans have long been looking for an answer at SS. We have seen a revolving door of players come through and try to fill the position. Bigby seems like another player who may fill in for a season or two (I hope he is as good as A.J. thinks he is). There has been talk of moving Jammer to safety at some point to close out his career, which I think would be a good move for all parties involved. Either way, the team could stand to add some depth and talent in this unit. With the exception of SS, the starters are all good. I expect the team to either draft a safety high or find a hybrid corner/safety player at some point in the draft.
With the draft right around the corner, we will soon find out the team's plan. Will this be the year that A.J. gets it right, or will we once again be scratching our heads?