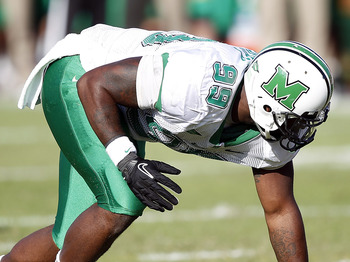 Pass rushers are at a premium in the league today. A team can never have enough pass rushers. Having a good rotation and reserves is critical. With that in mind, here is the next Charger Madness draft profile for Marshall star Vinny Curry.
Position: DE/OLB
Weight: 266 lbs.
Height: 6' 3''
Pros: This guy can flat out play ball. He might not be the fastest, but he gets the job done. He is a smart player and has the strength to bull rush opposing linemen. He does a good job getting under an opponents pads to push them around. He has good techniques and can approach rushing the passer several different ways. He is a team leader both on and off the field and seems to have great character. He is a strong tackler and does a good job spinning off the pile to get the ball carrier. Curry also is always flying to the ball and doesn't hesitate to throw himself into the pile. He also has a propensity for causing fumbles, recording 7 last year.
Cons: The big issue with him is that he seems to fade down the stretch during the course of a game. This can be overcome with better conditioning. he will most likely need some time to transition from DE to OLB, and his zone skills will probably take some time to develop. He needs to rein in his playing style a bit because he sometimes ends up playing out of control. Discipline will fix those minor issues.

Curry is a prospect who seems to do just about everything right both on and off the field. His level of competition was much better than people think. He has a lot of potential and what seems like very few weaknesses.