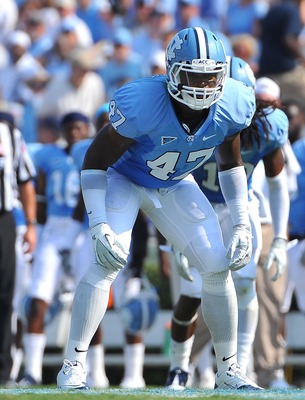 Zach Brown is a prospect that has scouts scratching their heads. On one end, he is an incredibly gifted athlete who possess impressive speed for a linebacker. On the other, there are questions about his instincts and physicality. With all of this, Brown is sure to be all over the place on different draft boards.
Position: OLB
Weight: 244 lbs
Height 6' 1''
Pros: Brown has one of the most coveted assets in a pass rushing linebacker, which is pure speed. He clocked in at a 4.44 in the 40 yard dash at the combine. That kind of speed can't be taught. He has the ability to recover when beat and still have an impact on the play. He can be a sideline to sideline force against the run game and has a great burst to get into the backfield. He reacts quickly when the ball is in the air or on the ground, using his athleticism to be a huge threat on fumble recoveries and interceptions.
Cons: For his size, he is not very physical at all. He doesn't have much in terms of pass rush moves outside of just using his speed. If he were to develop some techniques, he would be a great rusher. For now though, he is a one trick pony. If he fails to get by a blocker with his speed, he is in trouble. Opposing linemen are able to stalemate him if he doesn't get by. His read and react skills leave much to be desired, but this can improve with time. He doesn't have as much strength behind his tackles as you would think a person his size would have.
Brown is a player who has amazing potential, but would need some great coaching to reach it. If he can improve his read and react skills and maybe get a bit more physical, he can develop into something special. I look for him to last no later than the 2nd round.