17) Cincinnati Bengals- Dre Kirkpatrick, CB, Alabama
Kirkpatrick will bring some much needed help to the secondary. I know that the team signed Terence Newman, but they only signed him to a one year deal. Kirkpatrick is the best corner after Claiborne. This is a team that surprised last year and now needs to add a few pieces to ensure that they remain competitive.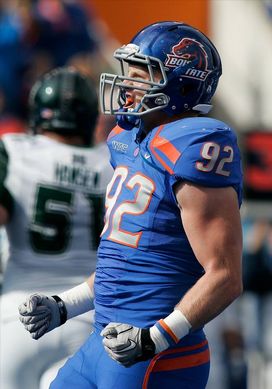 18) San Diego Chargers- Shea McClellin, OLB, Boise State
McClellin has skyrocketed up draft boards and could very well be the kind of pass rusher the Chargers need. I know that Mark Barron is still on the board, but pass rush is a much more critical need for the Chargers. I had Cordy Glenn being selected here before, but I think pass rush is the biggest issue the team faces. I wouldn't be surprised to see the Chargers trade down a few picks to take McClellin.
19) Chicago Bears- Kendall Wright, WR, Baylor
I know that the Bears added Brandon Marshall, but they could still use some help at receiver. Wright would be a good receiver to bring into the Bears organization. He is a quick receiver (40 time at the combine not withstanding) who can be a great player for the Bears who can stretch the field and work underneath.
20) Tennessee Titans- Michael Brockers, DT, LSU
The Titans have missed Albert Haynesworth ever since he left for the Redskins. Brockers is a tackle who can dominate when he wants. He has great potential and has the ability to dominate against both the run and the pass. His combine may not have been that good, but he performed much better at his pro-day. He is young prospect who could develop into a beast of a tackle.
21) Cincinnati Bengals- Dontari Poe, DT, Memphis
The Bengals will most likely being going defensive again with the 21st pick. Poe showed flashes in college and could emerge as a great tackle for the Bengals. He has great size and should be a force against the run.
22) Cleveland Browns- Cordy Glenn, OT, Georgia
Since they addressed receiver with the 6th pick, I look for the Browns to shore up their offensive line. Glenn is a great prospect who can play just about anywhere on the line. The team already has a dominant left tackle in Joe Thomas and a quality center in in Alex Mack. Glenn can play guard or tackle for the Browns. Keeping McCoy upright and safe is critical.
23) Detroit Lions- Stephon Gilmore, CB, South Carolina
The Lions were a huge surprise last year. Still, there are things that the Lions need to improve. Perhaps the biggest is the secondary. Gilmore would bring some severely needed help to this unit. Delmas is good, but there aren't many bright spots in the secondary for the Lions.
24) Pittsburgh Steelers- Dont'a Hightower, ILB, Alabama
This is just about the perfect marriage. Hightower fits the Steelers mold perfectly and the Steelers have a need at ILB. Hightower is an exceptionally gifted linebacker who can play a variety of different positions, which would be perfect for the Steelers. He is a dedicated player who should be a fixture for Pittsburgh for years to come.
25) Denver Broncos- Mark Barron, SS, Alabama
If Mark Barron wasn't a safety, he would be a top 10 pick without question. The Broncos could use receiver help for new quarterback Peyton Manning, but they have a few good young pieces already. Barron was very good for the Crimson Tide last year. With great ball skills and good tackling, what isn't to like about this guy?
26) Houston Texans- Stephen Hill, WR, Georgia Tech
Quick, name a receiver for the Texans not named Andre Johnson. The Texans were much improved on defense last year, which played a big part in the team making its first ever playoff appearance and AFC South title. The thing that the Texans could use the most is a quality receiver opposite of Johnson. Hill is not as polished as other receivers due to playing in Georgia Tech's triple option system, but he showed at the combine that he has the potential. As a big plus, he is a very willing blocker, which will certainly be appreciated by Foster and Tate.
27) New England Patriots- Nick Perry, DE, USC
New England is a great team with one glaring issue, which is the pass rush. Perry is a player who can play both defensive end or linebacker. He does a great job getting to the quarterback. While he would have to work on his coverage skills if they were going to use him at linebacker, Perry would be a great fit for the Patriots.
28) Green Bay Packers- Whitney Mercilus, DE/OLB, Illinois
Charles Woodson isn't getting any younger and may end up making the transition to safety sometime soon. Still, the team could use someone opposite of Clay Matthews to hep the pass rush. Mercilus is a prospect who is viewed as a can't miss prospect or a boom waiting to happen depending on who you listen to. Mercilus would benefit from having great coaches in Green Bay which would allow him to develop his skills in coverage. He should be a great fit for the Packers.
29) Baltimore Ravens- Peter Konz, C, Wisconsin
Konz is a great center who carried on the legacy of great lineman from Wisconsin, earning All-American honors. The Ravens have been blessed with good center play from Matt Birk, but he can't be expected to last much longer. Konz would provide a tough center who can pave the way for Ray Rice for years to come.
30) San Francisco 49ers- Coby Fleener, TE, Stanford
The Patriots proved that a 2 tight end system can work very well in the NFL. With Vernon Davis, the 49ers already have a great tight end, but Fleener would add another dimension entirely. Fleener runs as fast as some receivers and is very strong. Having both Davis and Fleener would make the 49ers even more dangerous.
31) New England Patriots- Jerel Worthy, DT, Michigan State
The Albert Haynesworth experiment failed in New England. Worthy is very physical and could kick out to end in a 3-4 system. Vince Wilfork is a ten year pro, so he isn't going to get any younger. Worthy can learn from him and either play #2 DT in a 4-3 or rotate in at NT for a 3-4 scheme.
32) New York Giants- Chandler Jones, DE, Syracuse
The Giants always take the best available player when their pick roles around, and Chandler is the best prospect left on the board at this point. The Giants always look to add quality linemen to their rotation, so Jones would add yet more depth. Running back may be a consideration, but Jones is to good to pass up.