Rumors are just a part of the off-season. They will not go away, so why not take a look at a few of them?
The rumor out of San Diego, even appearing on ESPN, is that the Chargers are going to DE Luis Castillo. Castillo, who is 28, suffered a broken leg in the first game of the 2011 season, missing the entire season. Castillo, a seven year veteran, is reportedly going to be cut to save cap room. Cutting Castillo would likely save the Chargers roughly 1 million in cap space. Here is the link to Bill Williamson's short report on the rumor from ESPN:
http://espn.go.com/nfl/story/_/id/7621119/san-diego-chargers-plan-release-de-luis-castillo-source-says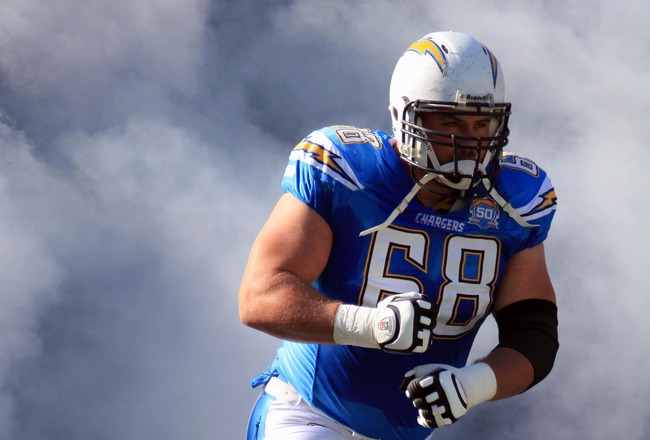 Another issue that keeps coming up is the possible retirement of Guard Kris Dielman. Dielman, who has been with the Chargers for 9 seasons, suffered a concussion during the season last year. While this is not something uncommon in the NFL, what was a problem was that Dielman went back into the game. Following the game,Dielman suffered a seizure on the team's flight home. The rumors have been flying the past few weeks as to the fate of Dielman's career. Up until just a few days ago, many expected Dielman to return to the team, but over the last few days, it appears that Dielman is moving closer to retirement. Dielman has been a great lineman for the Chargers, but if he retires, I have to applaud him for placing his health at such a high priority. Yahoo writer Mark Miller had a short piece on Dielman. Here is the link:
http://sports.yahoo.com/blogs/NFLDRAFT-scoop-du-jour/chargers-kris-dielman-planning-retire-112911958.html
As per usual, all of this must be taken with a grain of salt. Are these moves likely? maybe. We will see in due time. For the time being, we wait.