Is Ryan Mathews on the verge of a
breakout season?
Charger Madness will be featuring position breakdowns for the entire team over the next several posts. Today we will be breaking down the running backs.
Losses: Mike Tolbert
Additions: Le'Ron McClain, Edwin Baker, Michael Hayes, Mohamed Marah
Returning: Ryan Mathews, Jacob Hester, Curtis Brinkley
Projected Starters: Ryan Mathews (HB), Le'Ron McClain (FB)
By and large, the Chargers will have a good ground game this year. Perhaps one of the most underrated acquisitions for the Chargers in free agency was Le'Ron McClain. Here is a player by player breakdown of the Chargers running backs as they now stand.
Ryan Mathews: Mathews is a player who seems to be right on the edge of doing some great things. He does have injury issues, but he has potential to be great. With the departure of Mike Tolbert, Mathews is going to have more of a lone wolf role this year. I expect McClain, Hester, and company to all get some carries, but the team will be asking for more from Mathews. He enters the season as the firm starter for the Chargers. A 1200 yard season sounds reasonable. Throw in around 40-50 catches again, and he should be a serious threat for the Chargers.
Le'Ron McClain: McClain is set to be the starting fullback for the Chargers and will be blasting holes for Mathews to run through. McClain can hold his own carrying the ball and will most likely see more carries the closer the team gets to the goal line.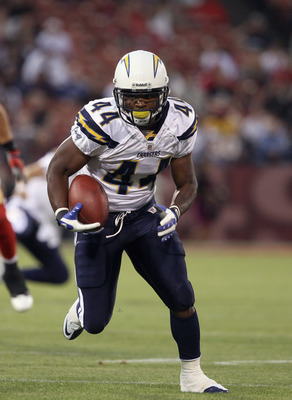 Jacob Hester: Hester is a true team player that came back at a reduced price and role to stay a Charger. He will still see some carries but will be most valuable on special teams. He will be the backup to McClain at fullback and can contribute on the ground in a pinch.
Curtis Brinkley: At the moment, Brinkley is the backup to Mathews. He did well last year during limited carries, but he is clearly the backup. I look for him to have a chance to once again step in for a game or two due to Mathews propensity to get injured. All in all, he is a decent backup for the team.
Edwin Baker: Baker was the final pick for the Chargers in the 2012 NFL Draft. He excelled in pass blocking and is a tough and hard runner. While he doesn't have the best top end speed, he can contribute in a number of ways. He may be a special teamer this year, but he has a chance to knck Brinkley down the depth charts.
Mohamed Marah: Marah is most likey a camp body at this point. The team is already set at fullback, so there seems to be little need to keep him around. The thing about Marah that may keep him around is his defensive experience, which could translate well into a solid special teams performer. He played fullback his first two years of college before switching to defensive end. He is a versatile player. Players like him are always a question mark. It really just depends on his potential and how the Chargers use it.
Michael Hayes: This is another intriguing prospect brought in for the Chargers. Hayes had great success while at Houston, but some wonder how much of that was from the passing game being so dangerous. I tend to think that he is a good player, at least collegiately, but he is not a hot commodity in camp. He will have to fight his way onto the roster, but he may end up as a practice squad player.